TITAD Olive Body Bar Soap
TITAD Olive Body Bar Soap is the Multi-use bar soap formulated with clean & nutrient-rich natural ingredients leaves the skin moisturized and soft. By gently cleansing your body, you can exfoliate the skin and prevent you from unwanted roughness and uneven texture of your skin.
1. Moist finish after cleansing
With the nutritious olive oil and natural glycerin, your body will be moisturized after wash.
2. Zero-plastic product
Eco-friendly product that is completely vegan and plastic-free. Unlike the liquid body washes, TITAD Body Bar is paraben and antiseptic free.
3. EWG Green Graded ingredients
All our ingredients are plant-based and EWG Verified, so it can be safely used for people with sensitive skin and even kids.
4. Natural Coloring
Basil seeds and spinach were used for coloring of the TITAD Olive Body Bar.
Coconut oil, Sodium Hydroxide, purified water, avocado oil, olive oil (70,000ppm), jojoba oil, grape seed oil, sunflower seed oil, argan oil, evening primrose oil, hemp oil, centella Asiatic extract, cedrus atlantica wood oil, spinach powder, basil seeds
Ratings & Reviews
Customer Reviews
Write a Review
Ask a Question
Perfect for my sensitive skin
My skin feels so soft after cleansing with this product, and it is super gentle on my sensitive skin.
Moisturizing and so gentle!
My skin is so dry that my body gets easily ashy, and I've been so lazy to put on body lotion. Ever since I started using this body bar, I don't have to put on any body lotion because it leaves your body so moisturized! It's not oily at all, but feels so refreshing to use. My husband has been washing his face with this, and he says that he loves it as well.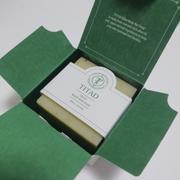 So good
This is so good. I thought it was going to leave my skin dry after cleansing because it lathers so well, but it's so moisturzining and smells good!
Safe product!
I am 15 week pregnant! I have tried other products from TITAD, and I was hoping for a body product. So, as soon as I saw that they released this body bar soap, I had to try. I thought it would be uncomfortable to use a soap since other soaps I've tried were so slippery. This body bar soap was so easy to use, and lathered so well. It left my body feel sooo moisturized. I knew that the ingredients are natural and safe, so I also tried it on my face, and it was perfect!