N Bambi
Charming color combination nails with vivid colors
Trendy color combination nails have been completed by combining seasonal colors into one set. Each of the five colors allure, and are combined with a unique design that you will find throughout the F/W season. 
01. Clean any oil and moisture on your nail
Wash your hands and use the prep pad to make sure your nails are clean and dry.
02 Pick the size
Choose the semicured gel that fits your nail size and remove the clear film.
03 Apply semicured gel
Apply the semicured gel slightly apart from the cuticle line.
04 Trimming (Filing)
Use the nail file to file the leftover semicured gel.
05 Curing
It is recommended to cure 2-3 times under the ohora UV Gel Lamp - if the nails are not hard enough, cure an additional 2-3 times.
*Please note that overcuring may cause early chipping and cracking.
How to remove​
Minimize nail damage by repeatedly wetting the enclosed wood stick with a remover. Push the stick gently from the edges to the cuticle.
Customer Reviews
Write a Review
Ask a Question
Filter Reviews:
chips
color
learning curve
issues
others
people
photo
gel nails
remover
hang
04/01/2021
Liza B.

United States
I recommend this product
Worst customer service I've ever dealt with
Spent over a week battling with customer service because this product didn't adhere to me nails. They asked me to send a video proving that it didn't work, one video for each color set (laughing out loud)— I had to mention that I'd be going through international business law to resolve the issue to get them to finally refund my money. Do NOT support this company.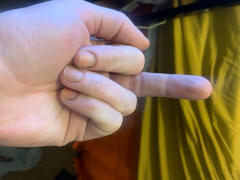 NP
03/09/2021
Nadine P.

United States
I recommend this product
So cute and easy!
I love having colorful nails, but I usually don't do them myself because it never lasts more than a day. Things are different now!! I have had these nails on for at least a week, and there are no chips or scratches at all! They are so comfortable and make my nails feel stronger. I am in love with these nails and have already ordered more!
03/02/2021
Lisa W.

United States
12/22/2020
Kari J.

United States
I recommend this product
First time purchase, LOVE them!
Took me a nail or two to get the hang of it, but I am LOVING Ohora nails! They look fantastic and are much easier to apply than expected - and they lasted a good week for me! (and I wash my hands a lot... A LOT.) I saw no nail damage after removal, I purchased the remover but didn't need it. After a week they easily popped off (but I will use the remover next time to make sure my nails stay healthy). I have short nails, one is very short right now, and am pleased with how well the Ohora nails stayed on and looked. I love how much stronger they make my nails feel too! I had no breaks or chips while wearing these, and am going to try out the nail strengthener too. I am also really loving the "syrup" color sets. I enthusiastically recommend Ohora nails: buy them! They are as great as people say!!
12/08/2020
Kathryn B.

United States
I recommend this product
10 days
easy to do! this was my first set and there was definitely a learning curve but i feel more confident going forward. i got a solid 10 days out of it before they started to chip. photo shows one of the chips. one or two pulled up a bit (i can only tell from hair pulls) and i'm going to say it's 50% product and 50% user error this time. my mind may change on that as i get better at the application. the colors are awesome and i would definitely buy again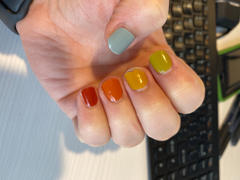 First name
Last name
Submit
Account form fields
Data were successfully stored
Something went wrong, please try to store again
These fields can not be empty, must be checked, or have to be valid