TITAD Fresh Breath Toothpaste
TITAD Fresh Breath Toothpaste, the clean and refreshing toothpaste, eliminates bad breath in just one use, prevents dry mouth, and provides cool mint-fresh breath.
1. Instant and long-lasting refreshed feeling
TITAD Fresh Breath toothpaste instantly removes up to 94% of gases that are known to cause bad breath. With its triple mint scent, the freshness is maximized.
2. Natural ingredients
TITAD products are only formulated with plant-based ingredients and EWG green grade ingredients that are nutrient-rich.

3. Effective dental care
The micro and soft high-quality abrasives minimize tooth wear. Not only does it help with gum care, it will also help you prevent tartar, plague, and any infection.
Dental type Silica, Tocopherol Acetate, sodium pyrophosphate, Sodium PCA solution, green tea extract, concentrated glycerin, Lauroylamidopropyldimethylgycine solution, rattania tinc, L-menthol, myrrh tinc, sage X, D-sorbitol solution, spear mint flavor, xylitol, purified water, Sodium Carboxymethylcellulose, chamomile extract, chamomile tincture, sodium cocoyl glutamate, sodium bicarbonate, peppermint flavor, floral mint flavor, functional silicate, golden extract, enzyme-treated stevia
1. Subscribe to our newsletters
2. Add TITAD Fresh Breath Toothpaste with any other TITAD items.
3. Enter the code [TITAD] at checkout.
4. Then, enjoy your free gift!
*Code can only be used once per customer.
*Only one code allowed per order.
*We may not be able to refund the credit for a toothpaste when you fail to use the discount code.
Ratings & Reviews
Customer Reviews
Write a Review
Ask a Question
06/27/2022
Stefanie

United States
I recommend this product
Another excellent product for fine hair!
I purchased the Bergamot variation because of how nice the Lemon balm worked on my hair. I have fine hair, which is 50% silver now-although that silver is covered by Matrix Socolor Cult semi and demi permanent dyes (resulting in dark hair with fantasy colored highlights). My hair is naturally wavy and can expand in size due to high humidity levels. Within 5 minutes it can go from sleek and strait to a fizzy wild mess. The picture attached is from my second use of the Bergamot shampoo and conditioner. Yes I do have a small amount of color come out with each wash, but it's not any more or less than similar brands, like Loma. I only sprayed some Difiaba Sunveil on and blowdried it straight with a wet brush. Overall I am so very pleased with the product. Especially. The natural scent that doesn't bug my sensitive sinuses.
[Crew Review] So silky and perfect for oily scalp!
I've always had a very oily scalp, so I tested several shampoos but this one's the best! My scalp doesn't feel itchy anymore and unlike other natural shampoos, it's really foamy and my hair and scalp feel super refreshed after using it. Also love the bergamot scent so when I use the shampoo with the treatment, it leaves a super nice bergamot scent and makes my hair silky!!!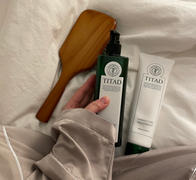 11/07/2021
Gladis

Singapore
I recommend this product
No more dry hair
My hair became silky and smooth after first use. Love the feel for my Colored hair which is dry.
10/16/2021
James C.

South Korea
Very Good Products!
Please make many good products.