N Heimish
A MUST HAVE color combination nail. True beauty is reached by its beautiful color and glitter. Nobody can deny the color combination that brings out your hand more beautiful.
01. Clean any oil and moisture on your nail
Wash your hands and use the prep pad to make sure your nails are clean and dry.
02 Pick the size
Choose the semicured gel that fits your nail size and remove the clear film.
03 Apply semicured gel
Apply the semicured gel slightly apart from the cuticle line.
04 Trimming (Filing)
Use the nail file to file the leftover semicured gel.
05 Curing
It is recommended to cure 1~3 times for the ohora UV lamp.
How to remove​
Minimize nail damage by repeatedly wetting the enclosed wood stick with a remover. Push the stick gently from the edges to the cuticle.
Customer Reviews
Write a Review
Ask a Question
Filter Reviews:
quality
styles
nails
colors
shipping
salon
size
attempt
learning curve
ease
10/20/2020
Rachael C.
United States
I recommend this product
First Time Won't Be the Last
First time buyer here! I was so amazed at the quality and ease of use. My first time as expected was the learning curve, but now, my nails look professionally done for a fraction of the cost and just a little more of my own time. My first try lasted a week with no chips. My second attempt lasted longer and looked even better when i added a top coat. Taking them off was also infinately easier than the gel i get in the salon. Love your product, keep the solid colors coming.
10/18/2020
Kristina L.
United States
Love
Love. It's not necessary to use the gel lamp but I highly recommend it to set your nails.
10/14/2020
Kilorain
United States
Love it so much
It's really easy to apply and lasted for nearly 2 weeks, even though I applied OPI nail strengthener instead of cleaning wipes before I put on Ohora's gel nail strips! In addition, it helps me quit biting my nails. I love these colors so much! 很容易在家自己貼的光療指甲,即使我沒有依照指示在貼之前先用酒精清潔,還塗了OPI的指甲增強劑等乾了後貼上,Ohora的指甲貼片依然撐了大約兩週。 甲貼顏色太美了剛好幫助我戒咬指甲的壞習慣!非常推薦!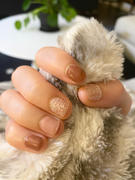 10/14/2020
Cindy A.
United States
Wonderful
I love them they are great!
10/05/2020
Ashley K.
United States
Disappointed
I was excited for these I bout 3 different styles . On the second day they started to chip off. They do not last very long. Not worth buying again. The shipping cost it so expensive alone. Very disappointed
Dear customer, Thank you for taking your precious time out of a day to give us an honest feedback. We sincerely apologize for the inconvenience. In order to prevent nail strips from chipping off, and make it last longer we highly recommend you to follow our tips for using. Please refer to our website for more details https://vanity-table.com/pages/ohora-nail-care As always, we would love to communicate with you about any questions or concerns via email. Please do not hesitate to contact us anytime by help@vanity-table.com . Again, thank you for reaching out to us. We appreciate it. Sincerely, VANITY TABLE customer support team
First name
Last name
Submit
Account form fields
Data were successfully stored
Something went wrong, please try to store again
These fields can not be empty, must be checked, or have to be valid