#Semi-cured Gel Nail Strips
#

nail
N Lucid
Premium nails with enchanting colors reminiscent of soap bubbles. A nail design with a refreshing look that combines the trendy vertical ombre with pebble gemstones. A lovely piece that makes the heart flutter with its gemstone accent gleaming in blue like soap bubbles.
TYPE: Gel Nail Strips

INCLUDES
30 Strips (16 solid & 14 accents) in 10 different sizes
2

Prep Pads &

1

Nail File &

1

Wooden Stick
STEP 01.
Clean Nail Surface
Wash your hands before removing oil and moisture from the nail surface with the prep pad.
STEP 02.
Choose Your Semi-cured Gel Nail Strip Size
Choose the size that best fits your nail size. You can stretch the semi-cured gel nail strip to fit your nail.
STEP 03.
Apply Semi-cured Gel Nail Strips
Peel off the strip by grabbing the outer tip of the strip (not the inner tip labeled 'Cuticle Line'). Be sure to place the strip slightly apart from your cuticle line.
STEP 04.
Firmly Press Semi-cured Gel Nail Strips
Begin applying pressure in the direction from the cuticle line to the outer tip, leaving no space for hair to get caught between the nail surface and strip.
STEP 05.
File Semi-cured Gel Nail Strips
File the outer tip of the strip.
* Please note that overcuring may cause early chipping and cracking.
STEP 06.
Cure Semi-cured Gel Nail Strips
Cure your strips 2-3 times with ohora's UV Gel Lamp. If you feel the strips require additional curing, do so 2-3 more times.
More Details :
ohora How to & Tips
• Waterproof strips that last up to 14 days

• Stretchable strips for all nail shapes & sizes

• C-curved strips designed in the shape of our natural nail beds

• Easy application & minimal damage to nails during removal

• Toxin-free & safety certified strips
Ratings & Reviews
Customer Reviews
Write a Review
Ask a Question
Filter Reviews:
color
gel strips
skin
gel top coat
stone
nails
primer
gradient
nail strengthener
pedicure nails
02/16/2022
Olivia

United States
I recommend this product
My 'Alien Girl Ombré Tastic' Set
This set is definitely for when you want something weird but cool but cute on the nails…These are different! I enjoyed this set because the red with **** ombre was lovely and of course the planet looking stone for an embellishment. I do have to say, the little stone did fall out. I used some nail glue and that did the trick. Full coverage nail strip-not opaque.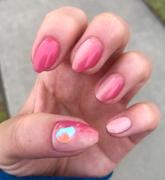 02/09/2022
Sara

United States
OMG ❤️❤️❤️
I've tried all the methods to get the perfect manicure at home. I can't get anything to lay correct, without bubbles or smudges, or it just takes way to long to do. I tried the Ohora gel strips for the first time tonight and I am thoroughly thoroughly impressed. They were easy and quicker to do than other methods. I was worried about wrinkles, smudges or fingerprints when pressing them down into place….nothing but smooth perfection. They look beautiful and almost like I got nails done at a salon. Imagine what a few more applications will get me!!! My nails are currently super weak due to ripping a couple of pairs of press on nails off improperly, so we will see how long this manicure lasts. But even if it doesn't stay long I know it's due to the current weakened state of my nails. I can't wait to use my second set and then continue buying and using Ohora!!!
12/04/2021
Xue Z.

United States
07/20/2021
Wendy B.

United States
I recommend this product
A little bit of everything
Pink, gradient, gems! This set has a bit of everything, while still being very cute and understated. I love the color shift.
07/18/2021
Xue Z.

United States