N Squeeze
A solid color nail colored to perfection. The color of the Squeeze is sweetness and sourness. This is a basic item that makes you feel better just by looking at it.
01. Clean any oil and moisture on your nail
Wash your hands and use the prep pad to make sure your nails are clean and dry.
02 Pick the size
Choose the semicured gel that fits your nail size and remove the clear film.
03 Apply semicured gel
Apply the semicured gel slightly apart from the cuticle line.
04 Trimming (Filing)
Use the nail file to file the leftover semicured gel.
05 Curing
It is recommended to cure 1~3 times for the ohora UV lamp.
How to remove​
Minimize nail damage by repeatedly wetting the enclosed wood stick with a remover. Push the stick gently from the edges to the cuticle.
Customer Reviews
Write a Review
Ask a Question
Filter Reviews:
pumpkin color
claims
UV light cure
video
Facebook
gel polish
things
color
some
10/23/2020
Daynie
United States
09/20/2020
Tina T.
United States
I recommend this product
Great Product!
Rarely do I find some of the cool things advertised on Facebook to live up to their claims, but this product was EXACTLY as promised. Applying the gel polish was as easy as in the video. And the UV light cure did exactly what I had hoped- it made the polish harder and strengthened my nails.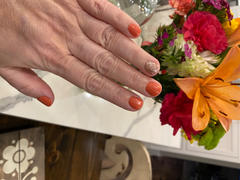 08/16/2020
Pam
Chicago, Illinois, United States
Quality & Cute
i was skeptical about getting ohora but got them to try it out. This set is really basic and cute if you're looking for something not too flashy. The color is absolutely gorgeous. I was amazed at the quality. It's been 3 days since I had them on and they still look new. No signs of any chipping yet. They look absolutely flawless.
08/12/2020
Campbell
Atlanta, Georgia, United States
Go on great, but don't last
These nails looked beautiful when I first got them on...they're a bit of a pain to stretch and get applied perfectly but once you get them there they adhere much better than nail stickers I've used and don't leave raised gaps around the cuticle like press-ons I've used that end up catching on your hair. However, within the first two hours I already had a chip on my thumb, even though I had been careful not to use them for anything strenuous. By day three I had chips on more nails than not, and by day 4 I removed them because they looked terrible. I will say they are very easy to remove and my nails didn't look damaged after, so that was nice. I am giving two stars instead of one on the off chance that maybe I overcured them and made them too brittle? But the instructions don't mention this as a possibility and have no warning against putting the light on them for too long so I can't be sure. I would be willing to give them another shot because they do look great when first applied, but $15 for shipping is ridiculous - it's more than the product itself costs! And with no less expensive options either. I understand it's shipping from Korea but other companies manage to do this without such a high shipping cost. If the product worked I would consider it but I can't justify paying almost $30 to give a second chance to nails that failed so miserably on the first try. If they figure out a way to reduce shipping costs I might consider a second trial.
First name
Last name
Submit
Account form fields
Data were successfully stored
Something went wrong, please try to store again
These fields can not be empty, must be checked, or have to be valid