N Crema
A premium nail defined by its smooth color. The gradation nail to remind you of the cream afloat your favorite espresso. The soothing color will also soothe your mind.
01. Clean any oil and moisture on your nail
Wash your hands and use the prep pad to make sure your nails are clean and dry.
02 Pick the size
Choose the semicured gel that fits your nail size and remove the clear film.
03 Apply semicured gel
Apply the semicured gel slightly apart from the cuticle line.
04 Trimming (Filing)
Use the nail file to file the leftover semicured gel.
05 Curing
It is recommended to cure 1~3 times for the ohora UV lamp.
How to remove​
Minimize nail damage by repeatedly wetting the enclosed wood stick with a remover. Push the stick gently from the edges to the cuticle.
Customer Reviews
Write a Review
Ask a Question
08/14/2020
Aimee P.
Centreville, Virginia, United States
Apier1
Beautiful & Classic
08/14/2020
Jo
Charlotte, North Carolina, United States
The jewel isn't my favorite but...
I love Ohora strips. They're just so easy and look so good. I've been using them for about a month now. I switch out my fingers every week (they tend to start chipping a bit at the ends around that time), but I've had the same set on my toes the whole month (they still look perfect). This is my first set with the jewels, and I had a feeling I wouldn't love the jewel part, and it seems like I was right. It looks cool, but I just worry that I'm going to start finding it annoying. Love the ombré look, though. This time, I cured twice, filed, then added a gel top coat and cured 3 more times. We'll see if that makes them last a bit longer.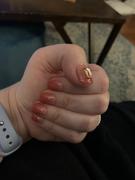 08/12/2020
Mary L.
Seattle, Washington, United States
Waste of money
I bought six sets of these, so I had lots of trial runs. Followed directions to a T. Could not get them to stick to my nails along the edges. I feel like these would only work if your nails are perfectly flat (what kind of mutant has flat nails?). At least the light was free, but it went into the trash as well.
08/12/2020
Rumi L.
Rahway, New Jersey, United States
08/10/2020
Shauna B.
Brooklyn, New York, United States
So Close
I so wanted to love these! The application was super easy except for the jewel. I could not get rid of the bubble that surrounded it. I also bought a jeweled set for my toes so I had a total of 4 times to get the jewel down and was not successful. Outside of that nails looked beautiful and lasted about 8 days before chipping. Granted it only started chipping on day 8 my dominant hand but still I was hoping to get at least two weeks. After 14 days my hair started getting caught where it grew out.
First name
Last name
Submit
Account form fields
Data were successfully stored
Something went wrong, please try to store again
These fields can not be empty, must be checked, or have to be valid