N Rocket Punch
A half french nail with different color combinations.
Vivid colors are used to refresh you up.
01. Clean any oil and moisture on your nail
Wash your hands and use the prep pad to make sure your nails are clean and dry.
02 Pick the size
Choose the semicured gel that fits your nail size and remove the clear film.
03 Apply semicured gel
Apply the semicured gel slightly apart from the cuticle line.
04 Trimming (Filing)
Use the nail file to file the leftover semicured gel.
05 Curing
It is recommended to cure 1~3 times for the ohora UV lamp.
How to remove​
Minimize nail damage by repeatedly wetting the enclosed wood stick with a remover. Push the stick gently from the edges to the cuticle.
Customer Reviews
Write a Review
Ask a Question
Filter Reviews:
fact
products
designs
coat
nail
salon
12/07/2020
Christine
United States
10/18/2020
Jiwon
United States
10/08/2020
Szeka C.
United States
I recommend this product
Love it
It is easy to put on. It looks great. The only complain is my hair would stuck between the gel and my own nail.
05/25/2020
Chira
Durham, North Carolina, United States
Love it
Ohora nails will revolutionize the nail art industry. I have been a nail biter since young, so my nails are usually weak and breaks easily and never really gets to the length I'd like them to be. Because of this, I have been a long time user of gel-nails which helps to harden my nails, however, the harsh removal technique leaves my nails weak and even more prone to breakage. So predicament for me - whether I do gel nails or not, my nails are bound to break. Ohora changed this for me because of it is so easy to remove and I can do it without damaging my nails. And, it looks absolutely stunning - no words! I have to say that it is not perfect, yes it does catch hair after a while, but weighing that against how stunning it looks, and how non-damaging it is to my nails, I can totally deal with it catching my hair a little in the shower and still hands-down give it 5 stars. Do have to say that a little practice is needed for perfecting the procedure, but already on my second set I think I've got it pretty optimized! I find that cutting the extra length off with a pair of scissors is much easier than using nail clipper (as the material is sticky, it gets stuck in the nail clipper and is quite difficult to remove). I also don't recommend filing the extra length away before curing because I just can't get it right, ends up looking rough edged. And I don't recommend clipping with a nail clipper after the cure because it's hard and cracked for me. Another thing to consider is that even though in their instructions, they suggest "stretching" the sticker to fit the nail size if need be, but only do this with stickers that has no pattern/pictures on it, as the pulling and stretching will ruin the art. SO here is my procedure to get it looking perfect 1. stick it on, press really hard 2. using a pair of small scissors, trim the extra and leave as little extra length as you can 3. cure - I use my own light which I had from before, I do 1.5 min 4. I file the extra length away with the filer provided, and do this uni-directionally 5. I cure again for another 1 min Hope that helps!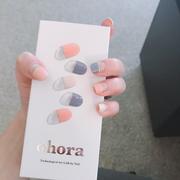 05/23/2020
Jackie S.
Overland Park, Kansas, United States
First name
Last name
Submit
Account form fields
Data were successfully stored
Something went wrong, please try to store again
These fields can not be empty, must be checked, or have to be valid