P Basic Pedicure No.4
P Basic Pedicure No.4 - a simple & basic staple item.
The luxurious look of the red color is further heightened by the glossy enamel coating.
TYPE: Gel Nail Strips

INCLUDES
30 Strips (16 solid & 14 accents) in 10 different sizes
2

Prep Pads &

1

Nail File &

1

Wooden Stick
STEP 01.
Clean Nail Surface
Wash your hands before removing oil and moisture from the nail surface with the prep pad.
STEP 02.
Choose Your Semi-cured Gel Nail Strip Size
Choose the size that best fits your nail size. You can stretch the semi-cured gel nail strip to fit your nail.
STEP 03.
Apply Semi-cured Gel Nail Strips
Peel off the strip by grabbing the outer tip of the strip (not the inner tip labeled 'Cuticle Line'). Be sure to place the strip slightly apart from your cuticle line.
STEP 04.
Firmly Press Semi-cured Gel Nail Strips
Begin applying pressure in the direction from the cuticle line to the outer tip, leaving no space for hair to get caught between the nail surface and strip.
STEP 05.
File Semi-cured Gel Nail Strips
File the outer tip of the strip.
* Please note that overcuring may cause early chipping and cracking.
STEP 06.
Cure Semi-cured Gel Nail Strips
Cure your strips 2-3 times with ohora's UV Gel Lamp. If you feel the strips require additional curing, do so 2-3 more times.
More Details :
ohora How to & Tips
• Waterproof strips that last up to 14 days

• Stretchable strips for all nail shapes & sizes

• C-curved strips designed in the shape of our natural nail beds

• Easy application & minimal damage to nails during removal

• Toxin-free & safety certified strips
Ratings & Reviews
Customer Reviews
Write a Review
Ask a Question
Filter Reviews:
pedicure
toes
ohora
color
nails
beach
products
looks
lifting
sand
02/24/2022
Leighanne B.

United States
Classic Beauty
classic color choice, can't go wrong with this one!
11/13/2021
Lauren L.

United States
luscious red!
My mom loves this red - it's such a bright and deep red perfect for anniversaries.
10/14/2021
Elizabeth

United States
I recommend this product
Sleek
So sleek and Gorgeous. Have them on now! Looks like I got a professional pedicure!
10/01/2021
sharon A.

United States
I recommend this product
So far so good but not enough for the money :(
So far so good, the color looks good, they haven't come off or peeled or chipped at all. Picking sizes was fairly easy, although half the sizes are too small or too large for my nails. I will have to cut down some on all sides or use some lengthwise to be able to use them all to feel like I'm getting my moneys worth. I feel like for the price you should get more than 2 strips of sizes as not everyone is the same you can realistically only use about half of them because the rest will be too small or too large.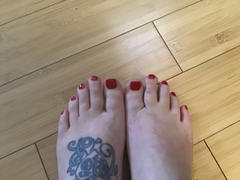 09/25/2021
Brandy S.

United States
Go buy them all.....you won't regret it!!
When you find a product you love as much as Ohora, you tend to buy one in every color you can. This pedicure set is no different. I have been able to keep these stickers on my toes for 3-4 weeks with minimal lifting. That is more than I can say for the traditional pedicure from a salon. I wore this set on vacation, and it stood up to salt water, extreme heat, and sand. I have been thoroughly impressed time and time again with the quality of these sets.