#Semi-cured Gel Nail Strips
#

pedi
P Minuet
Gem pedi with a soft lemon color. It is a design with a bright lemon color which will lighten your feet when you wear it. Looks simple yet lovely pedi design that matches any look anytime, anywhere.
TYPE: Gel Nail Strips
INCLUDES
30 Strips (16 solid & 14 accents) in 10 different sizes
2

Prep Pads &

1

Nail File &

1

Wooden Stick
STEP 01.
Clean Nail Surface
Wash your hands before removing oil and moisture from the nail surface with the prep pad.
STEP 02.
Choose Your Semi-cured Gel Nail Strip Size
Choose the size that best fits your nail size. You can stretch the semi-cured gel nail strip to fit your nail.
STEP 03.
Apply Semi-cured Gel Nail Strips
Peel off the strip by grabbing the outer tip of the strip (not the inner tip labeled 'Cuticle Line'). Be sure to place the strip slightly apart from your cuticle line.
STEP 04.
Firmly Press Semi-cured Gel Nail Strips
Begin applying pressure in the direction from the cuticle line to the outer tip, leaving no space for hair to get caught between the nail surface and strip.
STEP 05.
File Semi-cured Gel Nail Strips
File the outer tip of the strip.
* Please note that overcuring may cause early chipping and cracking.
STEP 06.
Cure Semi-cured Gel Nail Strips
Cure your strips 2-3 times with ohora's UV Gel Lamp. If you feel the strips require additional curing, do so 2-3 more times.
More Details :
ohora How to & Tips
• Waterproof strips that last up to 14 days

• Stretchable strips for all nail shapes & sizes

• C-curved strips designed in the shape of our natural nail beds

• Easy application & minimal damage to nails during removal

• Toxin-free & safety certified strips
Ratings & Reviews
Customer Reviews
Write a Review
Ask a Question
Filter Reviews:
nail application
glue
base coat
Removal
toes
nails
09/20/2020
Jennykinz

United States
07/26/2020
Junga K.
Englewood, New Jersey, United States
love all the designs at Vanity Table
All of them last 2 weeks (if not more, especially for pedicure) without a chip. I will continue purchasing from here!
07/23/2020
Kerry C.
Chantilly, Virginia, United States
Defective Product
Gel would't stick. I have used the product in the past and it worked lovely. It was disappointing that there was clearly something wrong and they refused to replace it or refund me. They instead offered me a coupon which required me to pay $15 Shiloh f. This is so unfair because I didn't get what I kid for.
VANITY TABLE
Dear Customer, Sorry for disappointing in our products. We suggest you to watch How to Use & Remove on this ink : https://www.instagram.com/tv/CCYNtvGF6iQ/?utm_source=ig_web_copy_link Please also refer to the How to Use page on our website :https://www.instagram.com/tv/CCYJSSMFbTM/?utm_source=ig_web_copy_link If you have any further questions or concerns, please do not hesitate to contact us. Sincerely, VANITY TABLE Customer Support Team
07/19/2020
Hey K.
Los Angeles, California, United States
Sooo good
Excellent product and shipping was less than 5 days.i think it was 2 or three days for shipping which is crazy because I think it comes from Korea. I got nails and toenail sets and they are easy to use no mess and they actually work! They look amazing and lasts. Tbh I'm going to get more of these from now on over salon nails because it's way cheaper and I don't have to worry about chipping or lifting. If you don't put it on correctly then it could lift but it's okay because there are more stickers to replace! I took mine off not because they came off but because I wanted to try a different color set. I hope they come out with more new designs. I love it highly recommend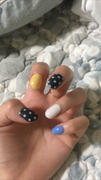 07/17/2020
Hilary S.
Mililani Town, Hawaii, United States
Amazingggg!
I have been looking for a easy and professional look that is durable and cute. Look no further!!! These nails are adorable, I work in healthcare, naturally we are washing our hands and using sanitizer a million times a day. I have had this set on for a week of working plus today I deep cleaned two bathrooms with no gloves, they are still showing no signs of wear and tear. Also, I have been constantly getting compliments on the nails. In total this took maybe 20 mins, I imagine the next time application will go even quicker. Totally worth the purchase, will be getting more color options asap!
VANITY TABLE
Dear Customer :) Thank you for your interest and nice feedback in our products. We will try our best to meet you again in the near future. If you have any further questions or concerns, please do not hesitate to contact us. Sincerely, VT Customer Support Team