P Vintage Wood
A brick colored pedi with a vintage sense. The fall and winter designed was derived from the idea of visiting a vintage shop and contemplating upon purchasing a small wooden souvenir.
01. Clean any oil and moisture on your nail
Wash your hands and use the prep pad to make sure your nails are clean and dry.
02 Pick the size
Choose the semicured gel that fits your nail size and remove the clear film.
03 Apply semicured gel
Apply the semicured gel slightly apart from the cuticle line.
04 Trimming (Filing)
Use the nail file to file the leftover semicured gel.
05 Curing
It is recommended to cure 1~3 times for the ohora UV lamp.
How to remove​
Minimize nail damage by repeatedly wetting the enclosed wood stick with a remover. Push the stick gently from the edges to the cuticle.
Customer Reviews
Write a Review
Ask a Question
08/22/2020
Yuki
Brooklyn, New York, United States
08/19/2020
Roxana A.
Key Biscayne, Florida, United States
08/19/2020
Amanda T.
San Antonio, Texas, United States
08/17/2020
Katie
Falls Church, Virginia, United States
Not as good as the fingernail sets
Maybe it's just that I have small toes, but the toe sets just don't work as well for me. They stay well on my big toe, but the smaller my nails get, the harder time I have getting the nail to stay on and get it shaped right. I have zero issue with the finger nail sets and LOVE those and prepped my toes the same way but no luck. Might work better for people who don't have tiny toenails. The colors were definitely really pretty though and I guess I could wear them on my big toe lol
07/25/2020
Jo
Charlotte, North Carolina, United States
YAS.
I feel very weird posting a picture of my foot on the internet, but I just had to rave about these gel strips. I love them! I literally took my shoes off at work to show my coworkers. Application was pretty easy, and if I hadn't messed up one of my big toes a few times, I think I could have gotten 3 applications out of just one pack (with some creative trimming). 10/10, will be purchasing more.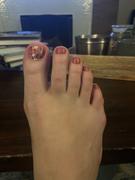 First name
Last name
Submit
Account form fields
Data were successfully stored
Something went wrong, please try to store again
These fields can not be empty, must be checked, or have to be valid