TITAD Olive Body Bar Soap
TITAD Olive Body Bar Soap cleanses your body, and leaves your skin moisturized. 
Meet our vegan, sulfate-free, and plastic-free body bar that will give a moist finish after cleansing, made only with natural ingredients. 
Safe Ingredients: Only using EWG Verified plant-based ingredients such as olive oil and argan oil, TITAD Olive Body Bar is safe to use for sensitive skin. 
Therapeutic Cleansing: Enjoy a therapeutic cleansing with the refreshing and mellow scent of cedarwood. 
WHAT IS TITAD?
TITAD is a personal care brand that offers premium vegan products - 100% plant-based & nutrition-packed for a clean and healthy lifestyle. 
All our products are available to be shipped via DHL
FREE SHIPPING ON ORDERS US $80+
Shipping costs depend on the weight (and size) of your order, your destination. You can determine prices by using the shipping calculator on shopping cart page.
At this time we ship to the countries with the following: Australia, Canada, Hong Kong, Malaysia, Singapore, and the United States. For customers living in countries where our products are currently not available to be shipped, we are preparing to ship the items to them soon. So, please wait for a while.
TAXES AND CUSTOMS
** Import duties and fees, taxes and any other charges and fees are the responsibility of the customer.
NOTICE: We, unfortunately, don't ship the items to APO/FPO/DPO (Army Post Office/Fleet Post Office/Diplomatic Post Office) addresses.
Customer Reviews
Write a Review
Ask a Question
Perfect for my sensitive skin
My skin feels so soft after cleansing with this product, and it is super gentle on my sensitive skin.
Moisturizing and so gentle!
My skin is so dry that my body gets easily ashy, and I've been so lazy to put on body lotion. Ever since I started using this body bar, I don't have to put on any body lotion because it leaves your body so moisturized! It's not oily at all, but feels so refreshing to use. My husband has been washing his face with this, and he says that he loves it as well.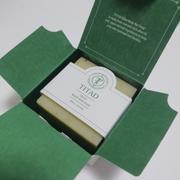 So good
This is so good. I thought it was going to leave my skin dry after cleansing because it lathers so well, but it's so moisturzining and smells good!
Safe product!
I am 15 week pregnant! I have tried other products from TITAD, and I was hoping for a body product. So, as soon as I saw that they released this body bar soap, I had to try. I thought it would be uncomfortable to use a soap since other soaps I've tried were so slippery. This body bar soap was so easy to use, and lathered so well. It left my body feel sooo moisturized. I knew that the ingredients are natural and safe, so I also tried it on my face, and it was perfect!